An Official Minecraft Dungeons FAQ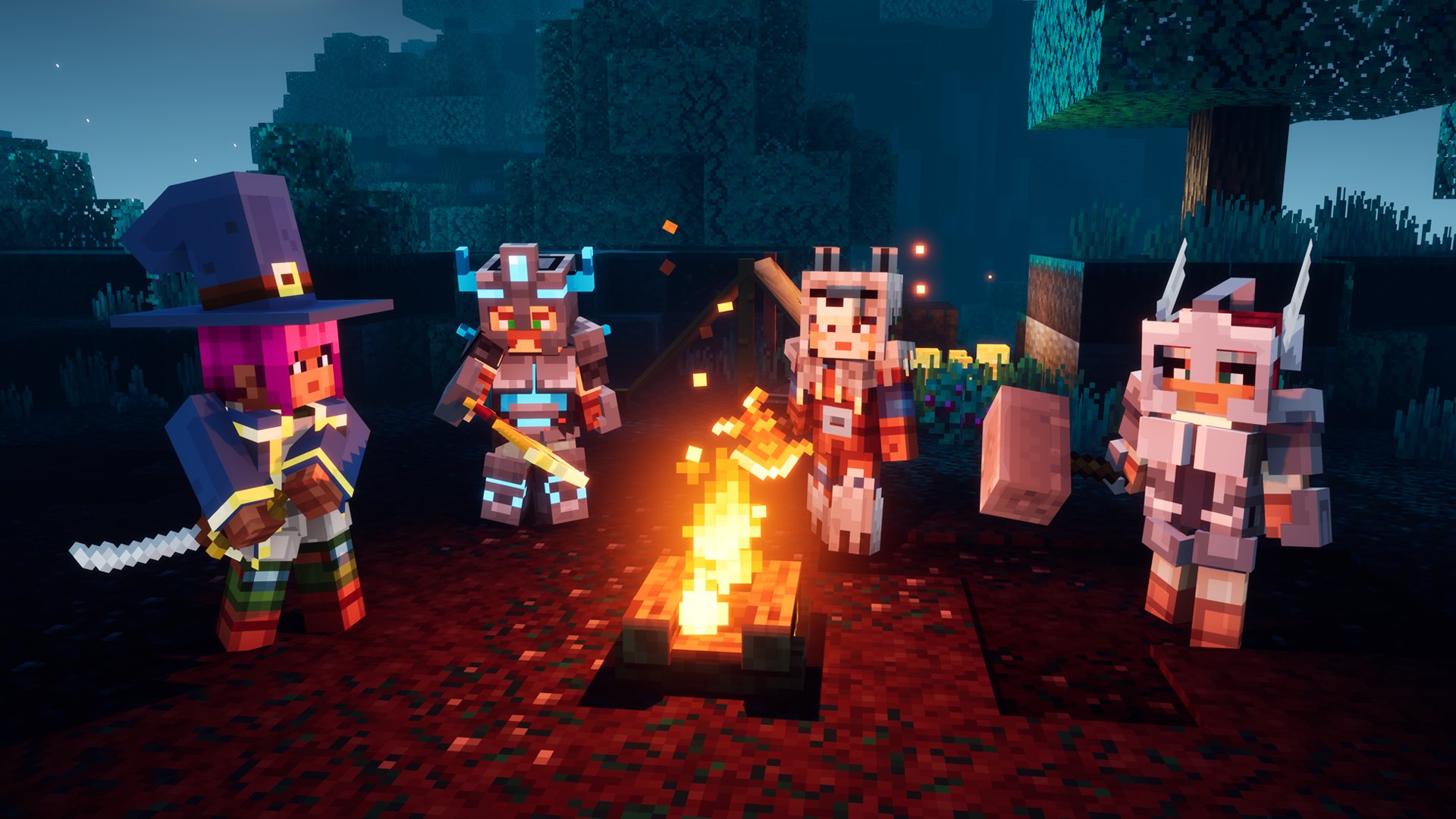 An Official Minecraft Dungeons FAQ
Created and further developed by a dedicated and incredibly ingenious team at Mojang, Minecraft Dungeons is a completely new action-adventure game, which takes place  in the Minecraft universe and was inspired by classic dungeon crawler games. In this game players come face to face with new-and-nasty mobs at various action packed levels. The game can be played in either single player mode or by up to four-person co-op multiplayer. An exciting, epic quest to overcome the evil Arch-Illager awaits the brave ones!
WHAT PLATFORMS WILL MINECRAFT DUNGEONS BE RELEASED ON?
Minecraft Dungeons will be launched at the same time on Windows, Xbox One, Nintendo Switch, as well as on PlayStation 4. In addition, it will be available on Xbox Game Pass at launch for PC and Xbox One too.
WHERE I CAN DOWNLOAD MINECRAFT DUNGEONS MODS
We recommend using our website to download Minecraft Dungeons mods
DOES THE GAME HAVE ONLINE AND LOCAL MULTIPLAYER?
Minecraft Dungeons can be played online or locally by as many as  four players cooperatively. How easy or difficult it is, as well as the enemy count and the loot you get will vary depending how many people play in every session so that you can all enjoy an entertaining and rewarding experience.
Do MINECRAFT DUNGEONS SUPPORT CROSS-PLATFORM MULTIPLAYER?
When the game is released you´ll have the possibility to play online with several other players  using the same platform. Our aim is to give the game's fans the chance to play together no matter what kind of platform is used, and we will be very glad to be able to offer you a cross-platform play in a future free-of-charge game update.
HOW MUCH WILL MINECRAFT DUNGEONS COST?
The price of Minecraft Dungeons – Standard Edition will be $19.99 USD.
Minecraft Dungeons – Hero Edition will cost $29.99 USD. This edition will come with a Hero Cape, two player skins, as well as a chicken pet. It will also have two DLC packs, as soon as they become available.
Moreover, Minecraft Dungeons will be available on Xbox Game Pass at its release for PC and Xbox One. Once released, the game will be constantly upgraded with various free updates.
IS THE GAME ENHANCED FOR XBOX ONE X OR PLAYSTATION 4 PRO?
Minecraft Dungeons can be run with excellent performance and 4K resolution on Xbox One X as well as PlayStation 4 Pro consoles.
I WANT TO BE A PART OF THE MINECRAFT DUNGEONS COMMUNITY, WHERE CAN I FIND YOU AT?
We are very glad to hear that you want to join the community. You can easily become a member of the Minecraft Dungeons community – all you need to do is find us on the official Minecraft Dungeons Discord at discord.gg/MinecraftDungeons and follow us on Twitter @dungeonsgame.
GAMEPLAY INFO
HOW DOES COMBAT WORK?
Combat in Minecraft Dungeons happens in real-time and places with heavy emphasis on armour, combat gear, and enchantments. We took great care in tuning items in the game to suit individual fighting styles, and we believe this flexibility is particularly useful and fun in co-op multiplayer. A large choice of weapons can be fine-tuned with one-of-a-kind enchantments that provide players with a great advantage in battle.
CAN CHARACTERS BE CUSTOMIZED?
Minecraft Dungeons does not include any classes of characters – this means that the players' power and abilities depend solely on the equipment they have in their possession at any given moment. A very nice thing is that players get the possibility to choose their appearance from a wide range of skins.
ARE THERE NEW MOBS IN MINECRAFT DUNGEONS?
Yes, we are pleased to inform you that there is a great variety of completely new mobs that make an important part of the Minecraft Dungeons narrative. The Key Golem is a pretty interesting little critter that assists players in opening locked doors while making cute noises, that will definitely delight. Players who visit the Fiery Forge will come face to face with the epic boss-like Redstone Monstrosity. There are plenty more new mobs to discover, plus lots of mobs you have already gotten to know and love, such as Creepers and Endermen.
DO MISSIONS CHANGE FROM ONE GAME TO THE NEXT?
Yes, they do! Every single mission in Minecraft Dungeons contains procedural content and thoroughly thought out components that together form the mission's aims and story. In other words, even though parts of the mission remain unchanged, the trails, mobs and treasures that you come across will certainly differ every time you play the game.
IS THERE ANYTHING TO DO AFTER BEATING THE GAME?
Thanks to its randomly generated levels and a wide variety of equipment pieces the game is sure to provide you with a positive experience and inspire fans to return more than once so that they can enjoy this beautiful game again. Players can form teams and return to more advanced levels to discover and explore new items and enjoy new rewards, with more surprises coming after the game's launch.
IS THERE MOD SUPPORT?
At the moment we do not have  plans for mod support.
WILL THERE BE ONLINE MATCHMAKING?
No, there will not. We've envisioned Minecraft Dungeons as something you will play with your good friends – possibly on a comfy couch or in a cozy online session.
BETA INFO
WILL THERE BE A BETA FOR MINECRAFT DUNGEONS?
We are offering an extremely limited closed beta for some players on PC. It is a technical beta that offers a small sample of the content from the entire version of Minecraft Dungeons and its purpose is to test online gameplay.
Those who can take part were selected randomly from the players who previously registered on minecraft.net. The chosen players will get an invitation at the email address they provided during signup. No extra participants will be added to the closed beta at the time being.
WHAT CONTENT IS AVAILABLE DURING BETA?
Players get the possibility to take a look at the first few levels of the new game with a group of friends in a multiplayer setting. The levels are procedurally generated, which means that every playthrough features a distinctive a different layout, mob encounters, and loot drops.
WILL I KEEP MY PROGRESS AFTER THE BETA?
No, your progress made here will not be transferred to the actual game. This means that you will not be able to reach and make use of any items, missions, or other progress taht you've managed to achieve during the closed beta period.
HOW DO I PLAY WITH MY FRIENDS?
Before you start anything, please be sure you're logged into your Microsoft account and that you know your friend's gamertag. You can see the gamertags at the top right of the Xbox account page right next to the profile icon.
If you want to to log into, or create an Xbox account, please visit account.xbox.com. When you have logged in successfully, you have the possibility to add your friend's gamertag to play with via the website. This has to be done by both players who wish to play together.
THE GAME DOESN'T START – WHAT CAN I DO?
Check if your PC meets the Minimum Requirements.
Check if your PC has the latest Windows updates.
Update graphics drivers for NVIDIA or AMD graphics cards.
Despite the fact that they are normally installed simultaneously with the game, please double check you have installed the required software dependencies for the game:
DirectX End-User Runtimes
Microsoft Visual C++ Redistributable for Visual Studio 2015, 2017, and 2019
WHY DOES MINECRAFT DUNGEONS HAVE ITS OWN LAUNCHER?
Well, the fact is that you cannot start Minecraft Dungeons directly from the Minecraft Launcher because of the simple reason: Minecraft: Java Edition and Minecraft Dungeons do not use the same account system.
Minecraft Dungeons needs Microsoft Accounts while Minecraft Java Edition needs Mojang accounts. We have tried and tested various options in order to be able to offer our clients the right experience and came to the conclusion that a good temporary option would be to have one dedicated launcher per game. This is why you definitely need the Minecraft Dungeons Launcher to be able to play the game.
WHEN WILL THE BETA END?
At the time being the closed beta is planned for a 2-3 week period.
WHERE CAN I REPORT BUGS AND POST FEEDBACK?
Any bugs that appear in Minecraft Dungeons can be reported at aka.ms/DungeonsBugs and all feedback/suggestions can be posted to aka.ms/DungeonsFeedback.
WHERE CAN I GET HELP?
In case you have any questions or  issues regarding Minecraft Dungeons, please visit help.minecraft.net. In case there are any inquiries related to Microsoft accounts and the Xbox Live service, they can be addressed to support.xbox.com.
---