Minecraft Dungeons – All We Know So Far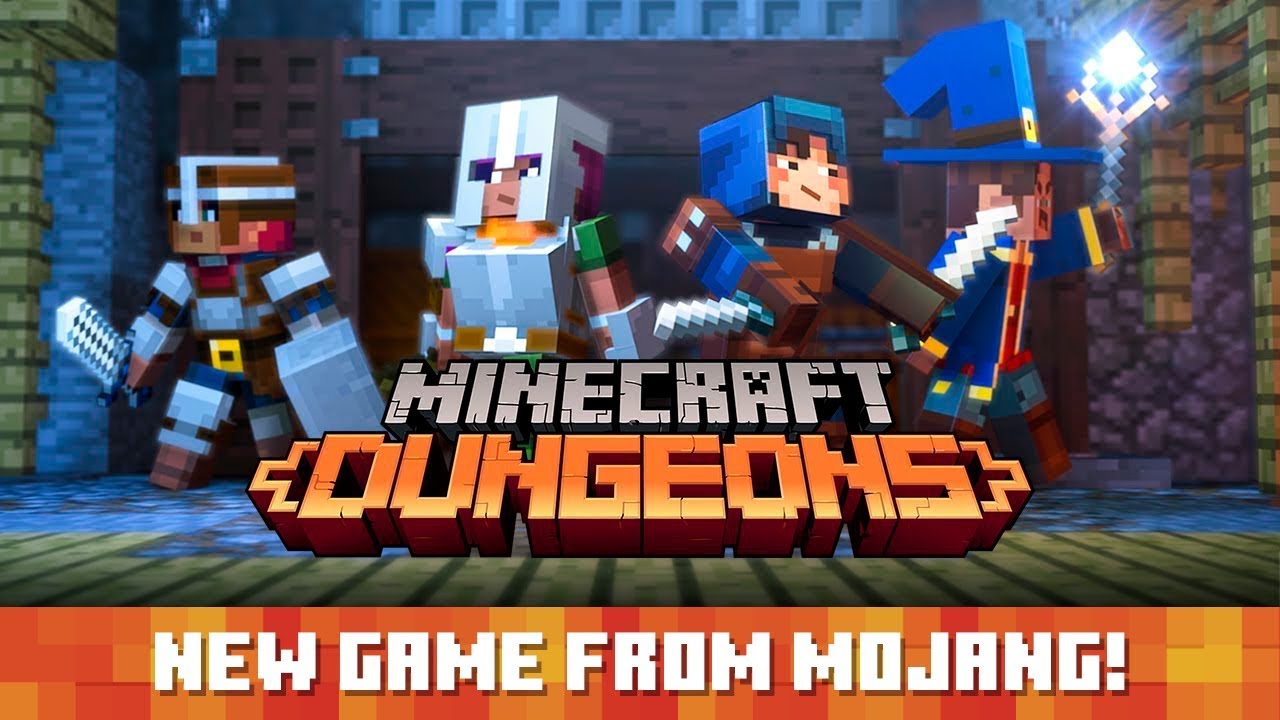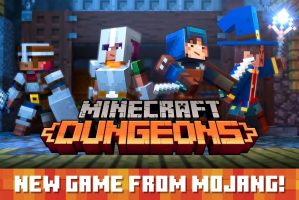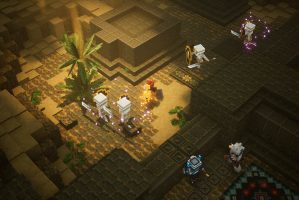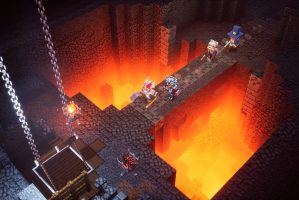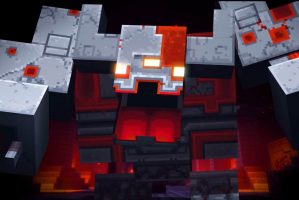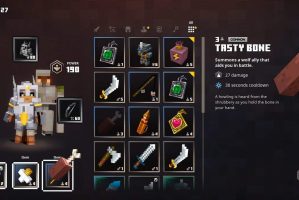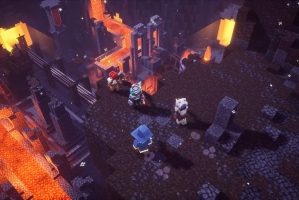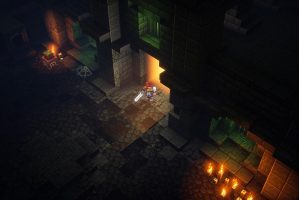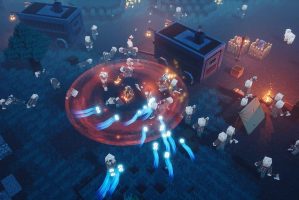 Minecraft Dungeons – All We Know So Far
Microsoft has introduced Minecraft Dungeons' gameplay at E3 2019, presenting to the fans Diablo-like action RPG playing experience together with a spectacular, blocky 3D-isometric game world.
We got to know so much about the game while attending the show, for example, we learned about its planned Spring 2020 launch.
In this article we've put together all the major questions about the game and we provide the answers to the best of our knowledge. If there is anything else you would like to ask, do drop us a line and we will do our best to find the answers for you as soon as we can..
Minecraft Dungeons: Gameplay Reveal Trailer
What is Minecraft Dungeons?
Minecraft Dungeons is a co-op action RPG for four players from Mojang, and it takes place in the Minecraft universe. It was built by a team on Unreal Engine 4. In Minecraft Dungeons there is less creative building that characterized the original Minecraft game, this one focuses on looting, character development and there is a lot of exciting action-filled combat.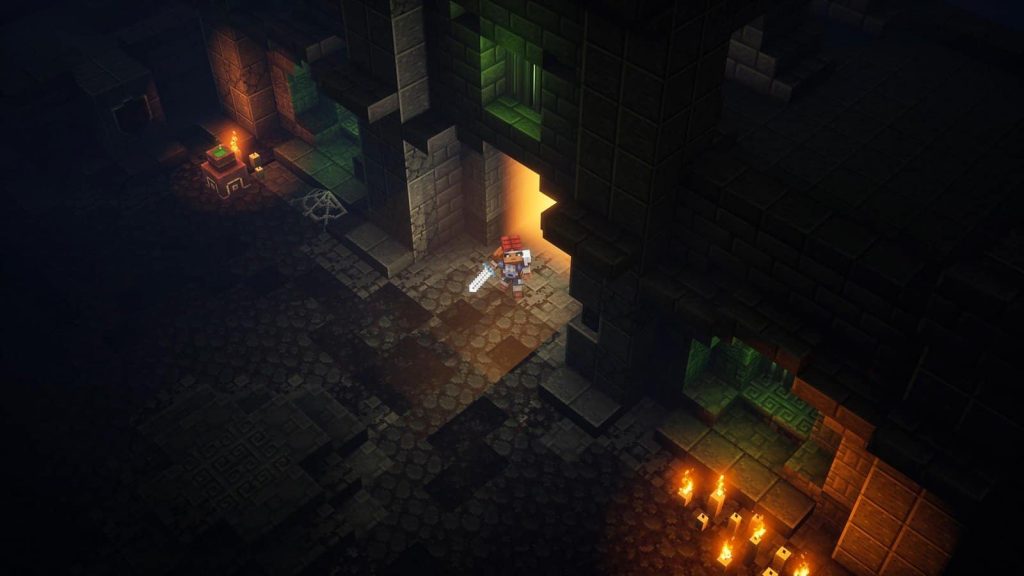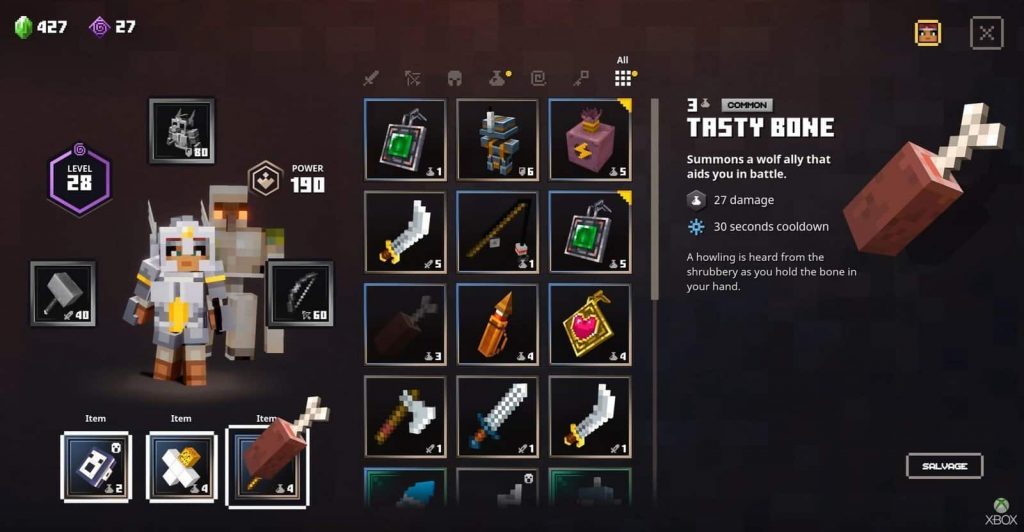 When Minecraft Dungeons will be released?
Latest announcement: Possible Minecraft Dungeons release date is 2020 Spring
Minecraft Dungeons System Requirements
Minecraft Dungeons System Requirements for PC (Minimum)
CPU: Intel Core i3-3210 3.2 GHz / AMD A8-7600 APU 3.1 GHz or equivalent
CPU SPEED: Info
RAM: 2 GB
OS: Windows 7 and up
VIDEO CARD: Integrated: Intel HD Graphics 4000 (Ivy Bridge) or AMD Radeon R5 series (Kaveri line) with OpenGL 4.41Discrete: Nvidia GeForce 400 Series or AMD Radeon HD 7000 series with OpenGL 4.4
PIXEL SHADER: 5.0
VERTEX SHADER: 5.0
FREE DISK SPACE: At least 1 GB for Game Core and Other Files
Minecraft Dungeons System Requirements for PC(Recommended)
CPU: Intel Core i5-4690 3.5GHz / AMD A10-7800 APU 3.5 GHz or equivalent
CPU SPEED: Info
RAM: 4 GB
OS: Windows 10
VIDEO CARD: GeForce 700 Series or AMD Radeon Rx 200 Series (excluding integrated chipsets) with OpenGL 4.5
PIXEL SHADER: 5.0
VERTEX SHADER: 5.0
FREE DISK SPACE: 4 GB
DEDICATED VIDEO RAM: 256 MB
Classes and progression in Minecraft Dungeons
Instead of a familiar class-based structure, in Minecraft Dungeons you need to build your playstyle depending on the items, enchants, armor, and weapons that you possess.
Let's say, you would like to play a defensive "warrior" type class, it would be a natural choice to select heavy plate armor and make sure you have defensive artifacts and characteristics. On the other hand, if you go for spells, you will most likely prefer lighter armor because that way your cooldown speeds are reduced and that allows you to use abilities more often, you do not need to trash around with a hammer or sword. One more option is to play a dexterous archer and direct your abilities on the weapon slot of your choice, you may choose a bow or a crossbow.
Itemization is no doubt a great feature, but there is more. You can enchant gear as well by using special effects. With one enchant you might get a chain lightning spell, and it's upgrades are available via the leveling system of the game.
According to Mojang you can choose from about twenty types of enchants for your melee weapon slot, and there are 20 more for your ranged weapon slot, and then there is a similar number of artifacts, the purpose of which is to produce special abilities. These artifacts include, for instance, a horn that can knock back enemies in a certain territory, a firework rocket that can be fitted to a bow and create explosions, or a spell reminiscent of a huge purple laser beam. These and other artifacts can be modeled.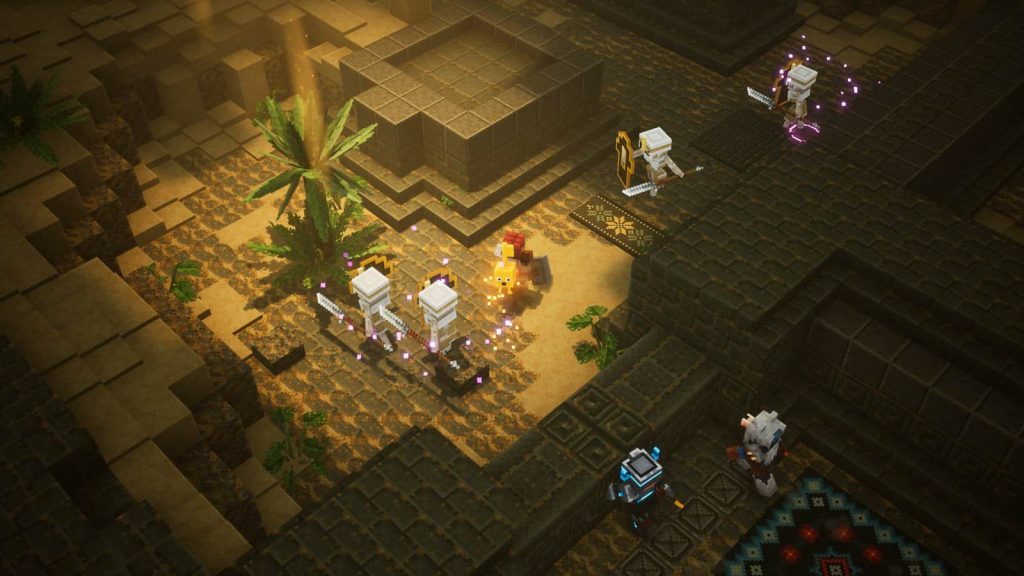 Is there a story to Minecraft Dungeons?
Yes, Minecraft Dungeons definitely have their story, however, we've been told that it's somewhat "light," because in this case the focus is on having on collaborative fun instead.
The main antagonist is called the Arch Illager, he kidnaps innocent inhabitants of villages and destroys towns, a lot  like the Illager in the Minecraft game that we already know. Your task is to fight him and, ultimately, to bring an end to his evil rule. That is the overarching story, and then every level has a specific purpose, for example, defeating the new important monsters in the game, or save a  NPC known to you.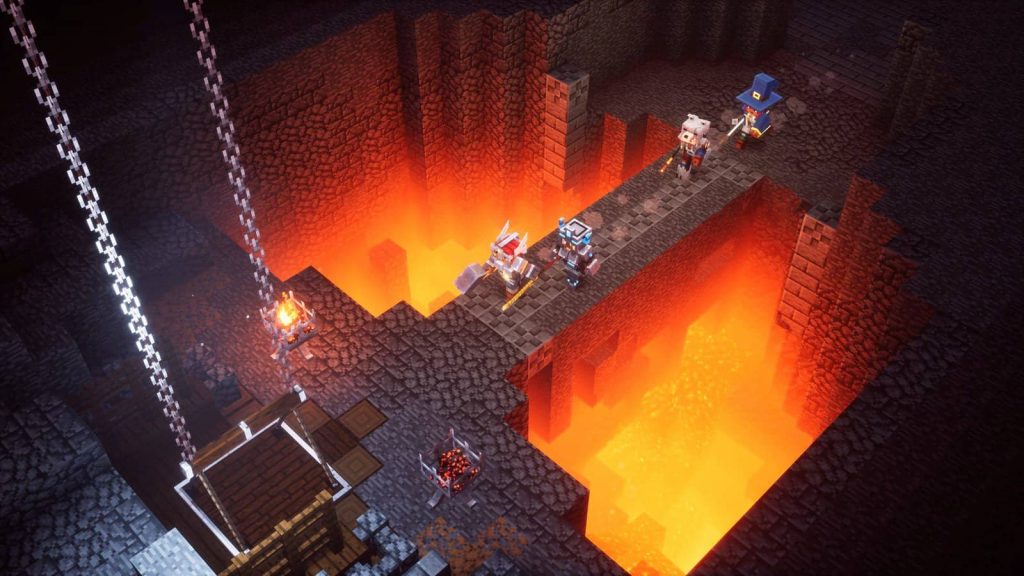 Does Minecraft Dungeons have an end game?
Once you have completed the basic story, Minecraft Dungeons' you will be granted access to other dungeons that have more challenges – enemies more difficult to defeat and traps harder to avoid and escape, and a more lucrative loot. Minecraft Dungeons end game will be especially entertaining as you will get to fight enormous monsters and get to grab fantastic loot.
At the central camp you will make your choice as to which missions to undertake, and you will be informed about the difficulty level depending on your Power level, that is, depending on your gear score. The most difficult dungeons result in the best loot.
How does loot work in Minecraft Dungeons?
In Dungeons loot is generated randomly, together with the maps. You may get chests, also bosses sometimes let go of unique weapons, and may have to solve simple puzzles  for some extra loot, that is off the beaten path. Every item has a power level, and these levels gathered up make your character's gear.
These are the weapons we know for sure right now: swords, bows, crossbows, two-handed weapons such as hammers, shields, pickaxes. Nice touch –  you can even use a fishing rod to hook mobs before stunning them.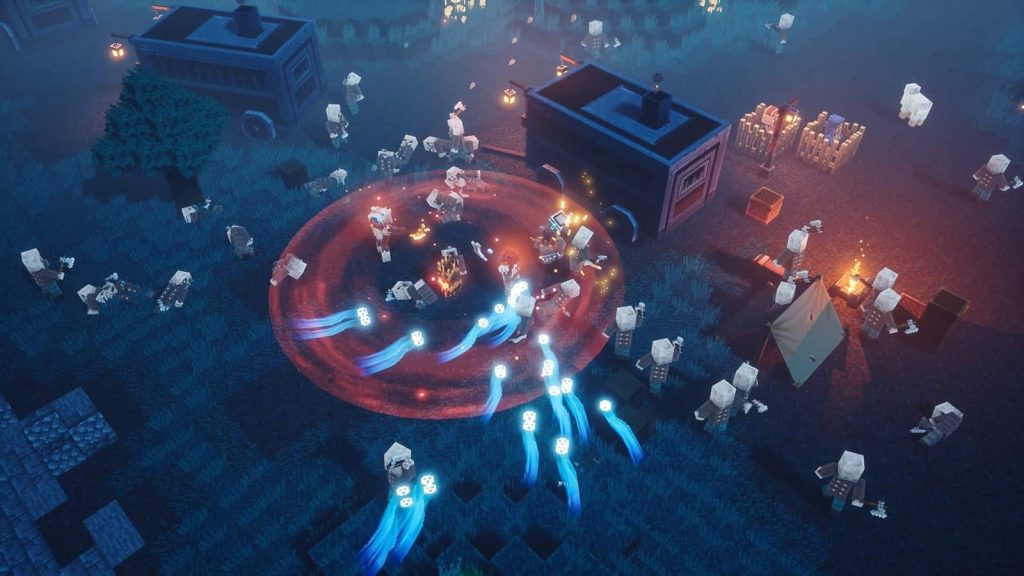 What mobs are there in Minecraft Dungeons?
Minecraft Dungeons includes all the familiar mobs from the base game,such as Creepers, Skeletons, Zombies, Spiders, and others. Besides these familiar evil creatures, Minecraft Dungeons has a wide selection of new enemies to battle,such as the horrible Necromancer that has the power to bring back from the dead defeated mobs, and then there is the Waith with the power to inflame large territories, making the game super challenging for you.
We wanted to know if  the Ender Dragon might turn up, and we were told to just "wait and see."
Can you build stuff in Minecraft Dungeons?
Right now you cannot build on Minecraft Dungeons. In this case the focus is solely on the RPG combat experience.
Does Minecraft Dungeons have loot boxes or monetization?
We have been told that Minecraft Dungeons will apply the general Minecraft ethos when it comes to monetization. This means that it won't be possible to win any payment, and there will be no loot boxes. However, it is possible that DLC expansions will be on sale later, like in case of Diablo III.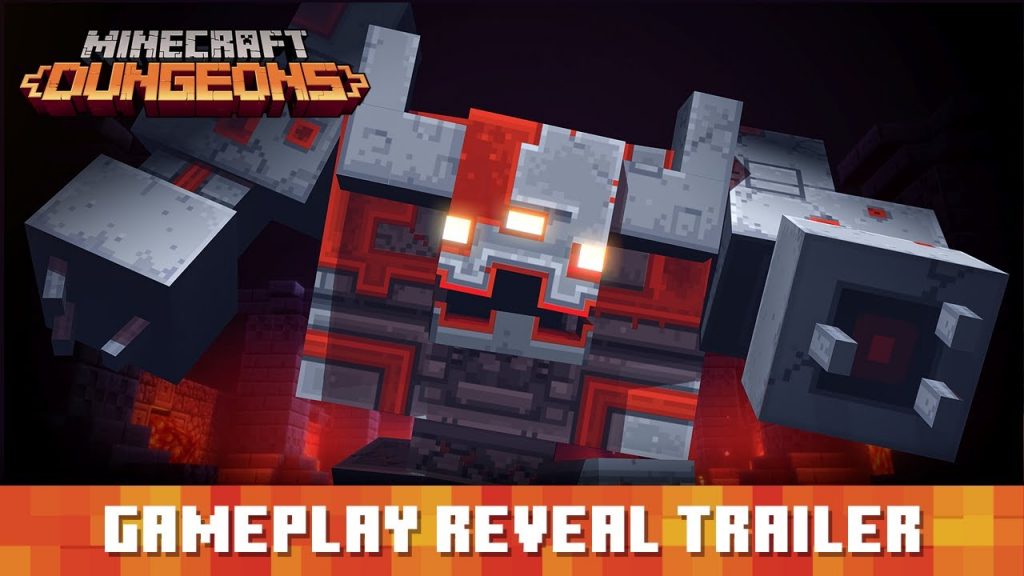 Can I play Minecraft Dungeons with my friends?
Yes, it can be played with as many as four friends locally or online. Minecraft Dungeons is compatible with cross-play between Xbox and PC, however, this may not be the case for other platforms, e.g. the Nintendo Switch.
Which platforms will Minecraft Dungeons be available for?
Minecraft Dungeons will be available for  Xbox One, PlayStation 4, Nintendo Switch, and PC.
How much does Minecraft Dungeons cost?
There will be two editions of Minecraft Dungeons. The price of the base game $20, and a $30 special "Hero" edition includes DLCs, which we were told means a mini-season pass. Further DLC is planned to be released, if the game is successful. It will be included in the Xbox Game Pass subscription as well.
Look like Minecraft Dungeons is great!
We absolutely loved the way the game felt. The Unreal Engine was the right choice, because the game has impressive lighting and physics, and the combat feels fantastic, very similar to, e.g., Diablo III. New mobs give a refreshed feel to the game, and the fact that maps are randomly-generated makes sure there is no repetition and the game never gets predictable.
It seems that Dungeons is going to be a formidable action RPG entry and a great addition to Minecraft universe, and we are looking forward to welcoming it.
---