Minecraft Dungeons – Reveals New Weapons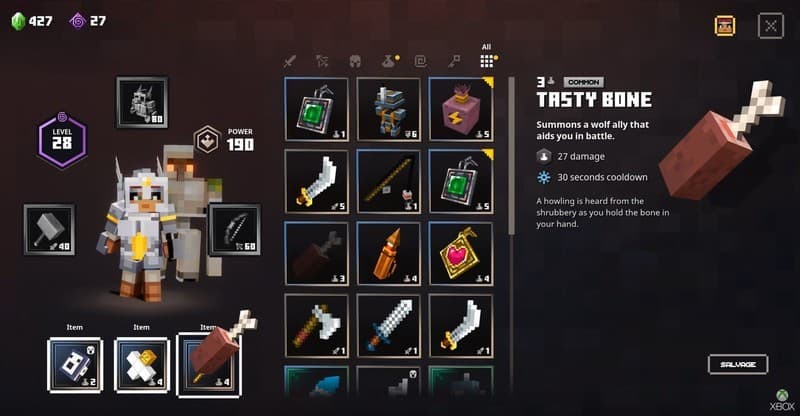 Minecraft Dungeons – Reveals New Weapons
Great news! There is a new gameplay clip about the much-awaited upcoming action-packed RPG Minecraft spin-off called Minecraft Dungeons, and this video allows fans to take a look at a few of the game's pretty awesome, never-before-seen weapons and armor, as well as lots and lots of fire.
Minecraft Dungeons will retain the iconic look and some well-known items from the original Minecraft game, but they will appear in a completely new genre. The game's developer Mojang first mentioned Minecraft Dungeons back in 2018, revealing that it was going to be a four-player dungeon crawler inspired by the immensely popular sandbox game and it will give players the possibility to choose between local and online co-op play versions.
Besides the cool items and enemies transported into the new game right from the old Minecraft, Minecraft Dungeons will have new mobs, brand new environments, various gear, as well as boss battles. At the beginning, scheduled for a 2019 launch date, Minecraft Dungeons is now predicted to come out in April 2020. 
Burn them all! With the right combination of weapons, armour and enchantments, you've got everything you need to turn your enemies to toast. pic.twitter.com/F4X0u8es21

— Minecraft Dungeons (@dungeonsgame) March 4, 2020
Unlike all the crafting and building that are inseparable from the original Minecraft, Minecraft Dungeons will feature a lot more action. The new game is inspired by some thrilling hack-and-slash games, such as the famous Diablo, which is going to have a sequel of its own pretty soon, by the way.
It seems that Minecraft Dungeons will not focus so much on RPG elements like other games of this kind, such as the already mentioned Diablo or Torchlight, it will concentrate more on the gear in order to offer players new exciting abilities and various upgrades. In a recently publicized gameplay video clip, Mojang demonstrated to the viewers just how crazy some of the gear in Minecraft Dungeons could be. In the video we could see a player gearing up with all kinds of pieces of equipment and weaponry, all of which give him stat bonuses.
Even better news – a Flaming Quiver gives the player the possibility to launch burning arrows and with a Fire Trail enchantment players leave a burning path on the ground no matter where they decide to go. Using these two amazing items, players get fantastic options – such as setting within their reach on fire, trapping their enemies in a fiery maze meanwhile showering mobs with arrows.
Minecraft was at some point undoubtedly the most popular video game in the entire world. And even if today it is no longer quite the same pop culture phenomenon that it used to be, the game remains hugely popular with a solid fan base and new players come to love the game all the time. In fact, Minecraft reached a new impressive record with over 100 million monthly players recently, and Mojang keeps doing its best to maintain Minecraft up to date, as it releases regular updates often and tweaks to keep fans engaged and the game exciting.
The news about the future Minecraft spin-off is perhaps less exciting than they would have been when the game was enjoying top popularity, but Minecraft Dungeons is nevertheless something worth checking out. Mojang definitely knows how to make a good game and keeps fans interested and entertained, and Minecraft Dungeons will rely on the time-tested action RPG formula. From what we know so far, Minecraft Dungeons will be easier to access compared to other games of the same genre, yet it will still provide lots of customization possibilities so that even veteran players can be happy.
---